Continue CareRx is a comprehensive at-home medication management program that reduces medication errors and prevents hospitalizations
Continue CareRx provides a suite of services, including pharmacy, virtual nursing and pharmacist support, as well as coordination of health care resources such as home-based Primary Care, personal care services, home health and/or rehab. Whether patients are referred by a provider, a family or friend or after a discharge from a hospital or skilled nursing facility, we are with our patients every step of the way to ensure they receive the right care at the right time – when they need it most.
We Help Communities Thrive.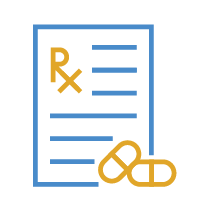 Medication Management
Our pharmacists review your medications for accuracy, safety and effectiveness.
Prescription Deliveries
Automatic refills and delivery of medications directly to your door.
Care Navigation
Ensuring our patients have all the resources they need, not just medications. We can help facilitate additional services that may be needed.
24/7 On-Call Support
Our nurses and pharmacists are available to answer questions 24/7.